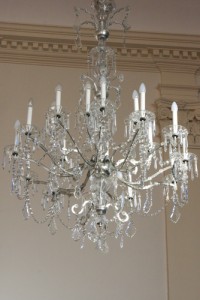 Chandeliers look beautiful when installed in your home, but the process of properly installing them should be left to a qualified, experienced lighting expert. Proper installation of a complex electrical fixture like a chandelier is best left to a licensed residential electrician who understands the intricacies of adding a chandelier to your home and who can make sure that the process is carried out safely and efficiently so that your fixture has a long life with little need for repairs.
Tips for Chandelier Installations
Instead of finding an electrician, homeowners sometimes opt to do a chandelier installation themselves. What they don't realize is that chandelier installations are very difficult and complex, and as a result, it's always best to contact local electricians who are experienced to do the job. If it is installed incorrectly it can mean many costly and dangerous complications in the future. Follow these important electrical tips to ensure your chandelier is properly installed in your home.
Hire an electrician who is experienced with this type of installation and its wiring, as it is very different from many of the other fixtures in your home. Homeowners are often unfamiliar with the proper wiring for a chandelier; as a result, they end up damaging the fixture when doing the installation themselves. Experienced electricians know that the side of the wiring with the ridges and bumps in the "power out" side and the smooth wiring side is the "power in." Getting those mixed up can cause serious damage to your wiring and your equipment.
Make sure that your electrician follows the manufacturer's order of instructions for fixture installation. Steps missed or skipped can cause serious problems and result in wasted money and time, as well as risky complications. For example, it's important for your electrician to remember that, when installing a crystal chandelier, the fixture must be installed before hanging the crystal. Otherwise, the fixture will be too heavy and fragile to install.
Be mindful of weight limits when it comes to chandeliers and your ceiling. If the chandelier weighs over 100 pounds, chances are you'll need an additional complex support installation in your ceiling to ensure that there's enough support to hold the weight. Not being aware of these weight limitations can cause major problems with the installation.
The residential electrician you hire needs to make sure that the canopy cover is properly installed and adjusted to the correct depth before hooking up the chandelier's wiring. Placing the canopy cover flush to the ceiling may result in twisted wiring and a bad connection.
Your electrician should know that chandeliers are hung from their chains, not the wiring itself. Hanging the chandelier from the wires can stretch them, causing a fire hazard. Chandeliers, in any case, are not designed to hang from anything other than the chains they come with.
Electric Man: Electrician Dallas Homeowners Can Count On
With 27 years of experience, ElectricMan offers quality emergency and routine electrical repairs for residential and commercial applications. Whether you need a chandelier installed or you have an electrical emergency of any sort, Electric Man can send licensed and experienced electrician homeowners can count on.
Call us today (972) 362-1804 for experienced Dallas lighting & electrical services.