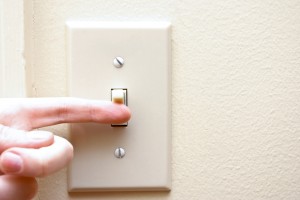 As the top Frisco electrician provider in North Texas, we want you to enjoy your home as much as possible, without costly or dangerous electrical problems. Electrical issues or repairs can zap your time, patience, wallet and, in some cases, your health. ElectricMan is committed to helping you make the most out of your electrical system, appliances, and usage, which is why your top Frisco electrician is giving homeowners some tips on how to take good care of your electrical systems and how to get the most out of your home.
#1 Turn Off The Lights & Lower Your Bill
Electric bills these days can give you headaches in and of themselves. However, there are a few things you can do to lower your bills and still enjoy your electricity.
Turning off the lights when you're not in a room
Consider installing a motion sensor switch for the outdoor lights you may forget to turn off
Unplugging an appliance that you're not using it
Or installing alternative power sources like wind turbines and solar panels can significantly reduce your power consumption without infringing on your everyday usage.
You can also use indoor generators to power your home without needing to be connected to the power grid.
#2 Keep Up With Electrical Maintenance In Your Home
Doing regular electrical maintenance in your home every two years can mean the difference between a happy, powered home and a mess of molten wire and old circuit breakers that don't work. Hire your local electrician to come take a look at the entire electrical system in your home, and act upon his recommendations as soon as possible to give your home's electrical wiring a long life.
#3 Take Care Of Your Smoke Detectors & Your Smoke Detectors Will Take Care Of You
Smoke detectors are an invaluable and potentially life-saving part of any home. Keeping them in good working order and supplied with fresh batteries might just save your life.
Be sure to swap the batteries of your smoke detectors every year (coinciding with the time changes is a good way to remember)
Make sure to change out your detectors every five to seven years
#4 Protect Your Home With The Right Equipment
Another important aspect of being safe and secure in your home to ensure your home is properly equipped with surge protectors, AFCI breakers and GFCI outlets wherever they are needed. These pieces of equipment not only can protect and preserve valuable appliances or expensive wiring, but they can keep you out of harm's way in case of an electrical emergency in your home.
#5 Hire A Professional For Electrical Remodeling Jobs
Whether you love hanging lamps or dimmer lights, homeowners who are fond of ambient lighting and are in need of some remodeling should always remember to call their top Frisco electrician to carry out the lighting installation. Installing lighting is a very intricate process that can get difficult and dangerous if you don't know what you're doing.
How ElectricMan Can Help
ElectricMan has been a trusted local electrician for over 27 years. For more helpful tips about your electrical system, check out our blog. You can also contact us today by visiting our website at www.electricmaninc.com or calling us at (972) 362-1804. Don't forget to connect with us on our social media sites!